About Program
Format and Methodology
Challenge
Team
Registrations
Results
Awards
Gallery
About Program
Registrations will be announced soon.
The Hult Prize was established in 2010 by Ahmed Ashkar and Bertil Hult, and is an annual, year-long competition that crowd-sources ideas from students after challenging them to solve a pressing social issue around topics such as food security, water access, energy, and education.
The Hult family – founders of EF Education First – donates USD 1 million in seed capital to help the winning team launch a social enterprise. The Prize is a partnership between Hult International Business School and the Clinton Global Initiative. Bill Clinton selects the challenge topic and announces the winner each September. Mr. Clinton mentioned the Hult Prize in a TIME Magazine article as amongst "the top 5 ideas that are changing the world for the better".
Intersection of Purpose and Profit
Hult Prize brings forth the innovative ideas residing in the minds of young people which can help improve the world. It promotes creativity through challenging young people to solve world's toughest issues by announcing a handsome reward for the most innovative ideas. The business ideas that hold the potential to bring about the most positive results in the lives of millions of people are welcomed the most and are supported wholeheartedly. Through the unprecedented human leverage capital knowledge and crowd, the Hult Prize has helped launch social enterprises that share the common facets:
Serve the least fortunate
Tackle humanity's greatest challenges
Pursue revenue and sustainability
Use existing channels
Create a market efficiency
Pursue large and untapped markets
Format and Methodology
This contest is based on campus hosting; the winners of campus are taken to regional finals which are hosted by eight regional teams around country. The regional finalists are taken to accelerator round which is hosted in Boston, San Francisco and Dubai mostly. The Grand finale is hosted in New York, where the selected teams propose their ideas in front of The United Nations.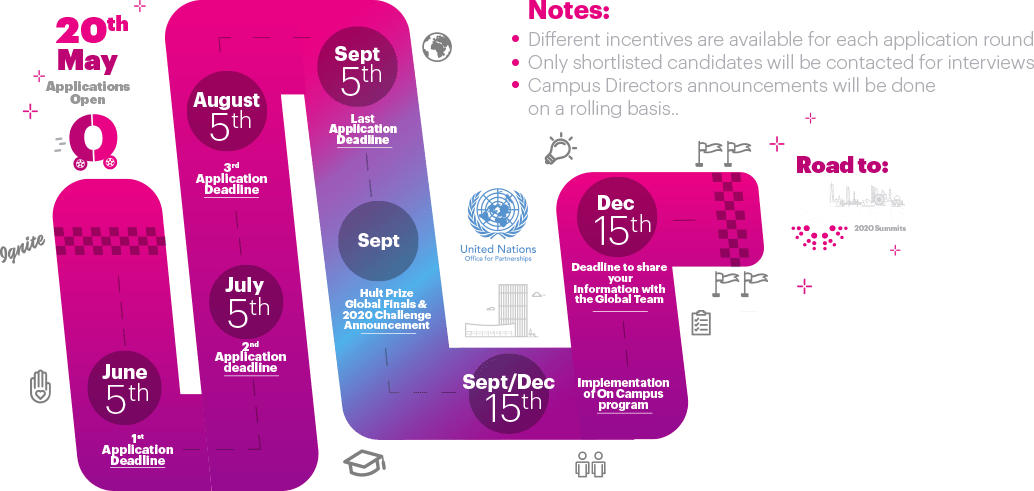 Challenge
With a decade of impact, the Hult Prize has crafted challenges and helped launch startups that actively solve The United Nations Sustainable Development Goals. With themes that revolve around the most gruesome world problems, Hult Prize ushers new and more efficient solutions for us into the world.
Theme
Seed Money
Awards
| Idea/Category | Position/Award | Event | Year |
| --- | --- | --- | --- |
| Alliance | 6 out of 500 | Hult Prize National Competition | 2017 |