About Program
Events Organized
Event Videos
Event Photos
Upcoming Events
Registration
About Program
DICE (Distinguished Innovations, Collaboration and Entrepreneurship) is a non-profit, tax-exempt organization, registered in Michigan, USA. DICE is a strategic initiative of DICE Foundation, USA aimed at fostering innovation and entrepreneurship culture at all levels. DICE is an umbrella program, and there are several major platforms currently active under this program. The main objective of each of these platforms is to jump start cycle of innovation in the country necessary for its sustainable development, progress and economic prosperity. Sukkur IBA University signed a Memorandum of Understanding-MoU with Distinguished Innovations, Collaboration & Entrepreneurship (DICE) Foundation on Dec 11, 2015 for promotion of Entrepreneurial spirit among the students, where both institutions pledged to work together for the development and further enhance the sense of Entrepreneurship at Sukkur IBA University.
Events Organized
Since 2016 CEL&Inc. organizes DICE VIC event and in 2018 DICE Mega Innovation and Entrepreneurship Event was organized
DICE VIC' 2019
Sukkur IBA University organized a one-day mega event of DICE VIC-2019, consisting of innovative competition among the youth from various universities, on October 27th. The day started with the Round -01 Ad War in which participants showed the advertisement of their innovative Business Idea, advertisement was judged by the jury from Corporate and Sukkur IBA University Panel.
The second Phase was consisted of the "Successful Entrepreneurs of Sukkur IBA University", the successful entrepreneurs shared their experience about how they converted their passion into a profession and also mentioned about the challenges they faced while entering into the real market. The session was moderated by Director CEL & Inc. Mr. Ikhtiar Ahmed Khoso.
The Third and the Final round was of "Business Plan Pitching". Out of 117 Ideas only 20 Teams succeeded to present their Business plans before jury.
Out of 70 advertisement Videos, Best Advertisement video Award was given to and team From Sukkur IBA University Named "V-deliverz". On the Basis of Advertisement Video, Business Plan Pitching the top 3 teams of Dice Vic-2019 were selected as.
2nd Runner up (Digital Doctor Sukkur IBA University)
1st Runner up (Bike performance Monitoring System Sukkur IBA University)
Winner (Cotton Care Muet Khairpur)
In concluding remarks the Chief Guest of the event was Vice-Chancellor, Sukkur IBA University, Prof. Nisar Ahmed Siddique thanked the Jury member, organizing team, students and other participants, saying, all the participants worked hard to make this event successful, later he distributed Prizes, Shields and certificates among winners, jury and organizing team.
DICE Mega Innovation and Entrepreneurship 2018
In 2018 National DICE Mega Innovation and Entrepreneurship event was organized at Sukkur IBA University in which students from 86 universities (HEI), 25 Technical Institutes and 45 Youth Category (colleges and schools) participated from all over the country. A total of 214 ideas were submitted and displayed at exhibition along with 10 stalls displayed by corporate sector. Top 10 from HEI presented before jury in DICE Shark Session, in this session 7 ideas were funded by investors and Venture Capitalists and finally three team were recognized as winners in each category. During the event 6 keynote speakers talked about latest findings pertaining to Entrepreneurship and Innovation. DICE Foundation USA and Sukkur IBA University are determined to work for the development of entrepreneurship in region and country and in this course Business Plan Competitions and Entrepreneurial Events will be organized every year at the university.
DICE VIC'17
Was organized at Sukkur IBA University in which regional universities also participated. A total of 80 teams participated, out of which 20 were short listed for competition. All 20 teams participated round 1 (Ad War) , round 2 ( Case Study) and round 3 (Battle in the ring) in which top 10 teams were finalized for presentation of their ideas. After presentation top 3 teams were termed as winners for the competition.
DICE VIC'16
In collaboration with DICE foundation, USA, CEl&Inc. organized a business plan competition in which more than 48 teams participated, out of them 25 teams found their way to final exhibitions of their prototypes, held on 16th August 2016 at 2nd floor knowledge center, Sukkur IBA University. Only 10 best projects were selected for the final phase of presentations out of which top three were selected as winners.
Event Videos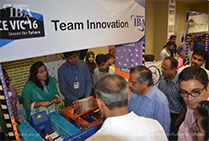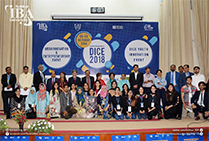 Registration
SIBAU DICE VIC 2019
Registration: (click here)
DICE 2019 Mega Innovation and Entrepreneurship
Registration: (click here)